Why are different thread forms used on the various types of window screws and how can you make sure you choose the right types to assemble your windows and doors?
The fasteners that are used every day in window and door manufacturing are designed specifically for that purpose.
They are not the same as the cheap and cheerful screws you can bulk-buy over the counter at any builder's merchant – these are normally designed for general purpose, mainly for timber joinery.
As a result, specialist window fasteners should allow you to securely join the most common materials we use in windowmaking – a variety of metals including aluminium and steel, PVCu, timber and composite materials. But don't assume that any window screw can be used across the different areas of the window assembly. It may sound obvious, but not all window screws are the same!
The joints and attachments that you will need to make throughout the window or door construction could all be very different, and that's why a range of screws is needed. For example, the screw for attaching a friction stay to an unreinforced PVCu frame has to be designed very differently to one that attaches a door threshold to the frame.
Get to know your Rapierstar fastener threads
One of the main differences between the various Rapierstar branded fasteners is to do with the thread form. The thread must be the right design to cope with the materials the fastener is inserted into and the variation of material thicknesses. For example, consider the thin the walls of the chambers within a PVCu profile compared to the outer wall and reinforcement where it is used.
This is why Rapierstar's StarPVCU range of fasteners includes three distinct types of thread with corresponding identifying codes: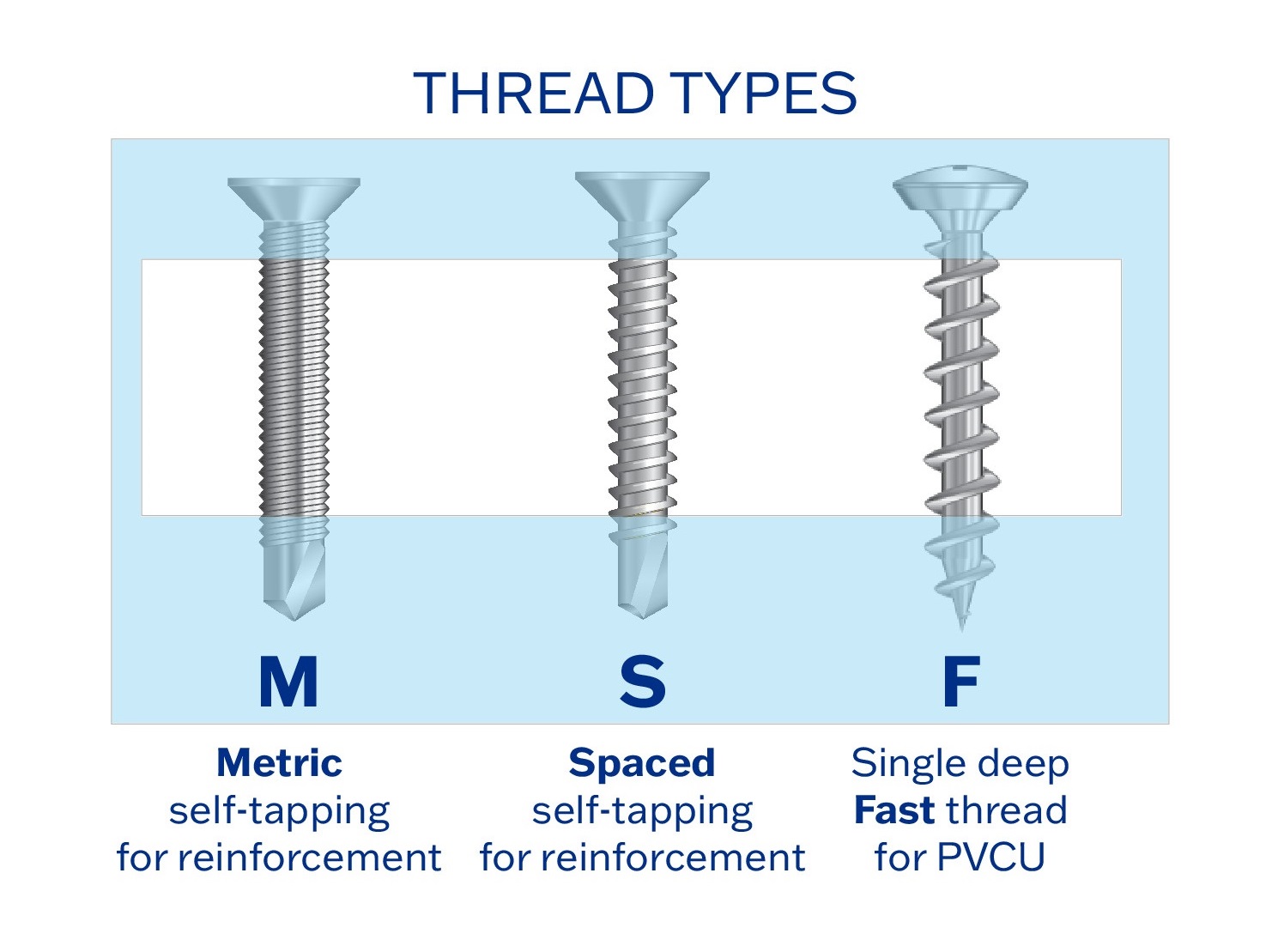 The difference in the threads is obvious to see, with the fine thread of the Metric (M) clearly very different to the coarse thread of the F (Fast) screw. Each of these threads varies in respect of the diameter, pitch, depth, angle and much more – all for good reason!
You will also be aware that the point style also differs across the fasteners used in PVCu window and door assembly because of the application in different materials. Steel reinforcement, for example, will require a self-drilling fastener whereas with PVCu and composite materials used in thermal inserts a self-tapping screw will be needed.
How to choose the correct fastener thread
When it comes to deciding which type of screw thread to use for each aspect of the window or door's assembly, we need to think about three things:
1. What is the frame material – PVCu, aluminium, timber, steel or a hybrid?
Choose the wrong thread for the material and you won't be able to achieve the pull-out strength needed to make the join secure. That could mean, for example, hardware such as a window handle becoming loose and detaching from the frame during routine use.
2. Is the profile reinforced and, if so, what material is the reinforcement?
Both steel and composite (RCM) reinforcement are now widely used but they have very a different density. So, you would use a Metric (M) or Spaced (S) thread for steel and a Fast (F) thread for composites.
3. What is the purpose of the fastener?
There are so many different types of attachment you will need to do when making every door and window, from mechanically joining two PVCu sections, such as a door frame and sidelight, to attaching keeps and handles. All have their specific requirements.
Fortunately, you don't have to be an expert on the design of fastener threads to know which screws to use and where. Rapierstar offers easy-to-follow guidance for window makers through their Recommended Fixings Manuals (RFMs).
Download a Recommended Fixings Manual and get it right every time
Rapierstar RFMs have been produced for the most popular PVCu systems including Deceuninck, Eurocell, Kömmerling, Veka, Rehau and Liniar.
They develop these – and review them regularly to keep pace with profile developments and new products – in conjunction with the technical teams at the systems houses.
They are available free to download in the RFM section of rapierstar.com and detail which fasteners to use for everything from attaching shootbolt gearing and lock keeps to bay pole assembly and dummy sash jointing.
This ensures you choose the right size of fastener, head design and metal – coated carbon steel or austenitic stainless steel.
Find out more
As specialists in window and door fasteners, we have a wealth of experience to help fabricators and installers deliver high quality finished products. If you have any questions about the role the fasteners play and how to choose the right fasteners, please call on +44 (0)1260 223311 or contact now.
This email address is being protected from spambots. You need JavaScript enabled to view it. Technical & Marketing Manager at Rapierstar Tweet to @andyhol1