As the window and door market settles to more normal activity levels, now could be a good time for fabricators to look at how to improve manufacturing efficiency. But how can your choice of fasteners boost productivity and profitability?
We only have to look at the slickest manufacturing businesses to find the answer. The major car producers, for example, are renowned for their 'just in time' approach to vehicle assembly which is only possible by having all the required components available to operatives and robots in the right place at the right time.
This super-efficient approach  maximises output and capacity, keeping the cost of new cars viable for the consumer.
We can apply this thinking in the fenestration sector too, particularly when it comes to feeding the production line with components – especially fasteners.
What processes do you have in place in your factory for maintaining fastener supply to individual workstations or specific areas? Can this be improved? Do operatives know which screws to use and why? Can they find them easily on their workstation? And do you experience issues with certain fasteners running out of stock regularly?
Think about these questions and you will be able to start improving productivity. It is the natural starting point for the Rapierstar team too, who work with window fabricators to develop effective processes and systems to ensure maximum fastener availability, tailored to their factory.
Three practical steps every factory manager can take
Cut the need to keep re-stocking screws at workstations
How far away is the stock room from workstations? If your operatives are having to replenish stocks of fasteners regularly, how much time is that taking? The time it takes to go to the stock room and back could be spent assembling windows and doors!
Ensuring that workstations have sufficient racking with the capacity to hold large stocks of screws  is really important. We've seen the benefits this can bring through the work we have done with some of our customers. For some, we have even provided appropriate racking too so each workstation could hold up to a month's worth of fasteners at any one time.
Clear labelling and colour coding to reduce risk of errors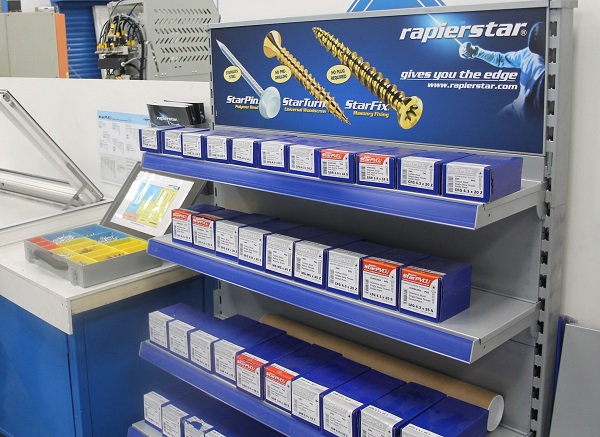 Although it might seem obvious, having all the different screws clearly labelled so operatives can find the right one at a glance is not something we see in every factory. Using Rapierstar fasteners means all boxes are colour coded, and we can also provide bespoke labelling to assist further.
We also provide bespoke fastener application charts too which are designed to be displayed at workstations and prominent locations throughout the factory. These give operatives a handy guide to refer to at all times. Being tailored to each fabricator is particularly useful as it takes into account the profile systems and hardware being used.
Establish a slick stock management system
Think about the process involved from the point at which fasteners are delivered to them being inserted into a window or door frame. Could this be streamlined? What's the re-ordering process and how easy is this?
It is an area that Rapierstar can help with. We can work with you to set up the best approach, from helping you reconfigure your stock room to designing easy to use stock order sheets. The latter will help immensely with re-ordering, making the process faster and more reliable with less risk of missing variants of a screw – the result is more complete orders.
Talk to Rapierstar and reap the benefits
Disruption to production as a result of running out of screws can be costly. But if you adopt the same mindset as the car industry in your window factory, running out of screws will be one less thing to worry about. And with the help of Rapierstar, you can put the best possible processes and systems in place to minimise the risk.
You may also find that your team works more efficiently when they are clear about which screws to use and always have them 'on tap' at their workstation. That could deliver financial benefits too as output and capacity may increase accordingly.
To arrange a review of fastener use in your window and door factory and discuss the benefits of using Rapierstar products, please contact us.
This email address is being protected from spambots. You need JavaScript enabled to view it. Technical & Marketing Manager at Rapierstar Tweet to @andyhol1