Many homeowners will interact with and touch their main entrance doors, French doors, bi-folds and sliding doors much more frequently than their windows. It should be a priority, therefore, to get the quality of doors right with a build quality that stands the test of time. But are your fastener choices having a negative impact on your efforts?
Door set quality is an issue that Rapierstar is often asked to assist with because using the wrong types or sizes of fasteners can easily undermine the finished door's quality and functional reliability. In fact, in many cases, the reason why end-users experience many of the most common problems with their doors can be traced back to the fasteners used in their assembly. These complaints ultimately result in call-backs and potentially damaging negative online reviews.
What do you need to think about when choosing fasteners for door assembly?
They may be small components that individually make up a tiny fraction of the overall cost of a door set, but fasteners are critically important to achieving a high build quality. After all, they are the components that hold everything together!
Consider then the following – are you confident that all the screws you are using to manufacture your door sets are correct in terms of:
Size – is the diameter and length right for all the different screws you are using?
Head design – pan or countersunk?
Thread form – is it right for the materials and maximum pull-out strength?
Type of metal – will it give you the resistance to corrosion that you need?
To help fabricators make the right choices, Rapierstar offers detailed guidance on which screws to use with many of the most widely used profile systems through our Recommended Fixings Manuals (RFMs). Users of systems such as Eurocell, Optima from Profile 22, Residence Collection, VEKA and REHAU can download these RFMs free of charge from our website.
Every Rapierstar RFM pinpoints the type and size of screw to use in every area of a door or window's construction, allowing for common variations such as different types of reinforcement. This includes which Rapierstar StarPVCU fasteners to use for glazing clips, low thresholds and frame assembly. But when it comes to door sets, one of the most important areas of guidance that is included in every RFM is which screws to use when attaching the door hinge to the outerframe.
Success hinges on the hinge screws!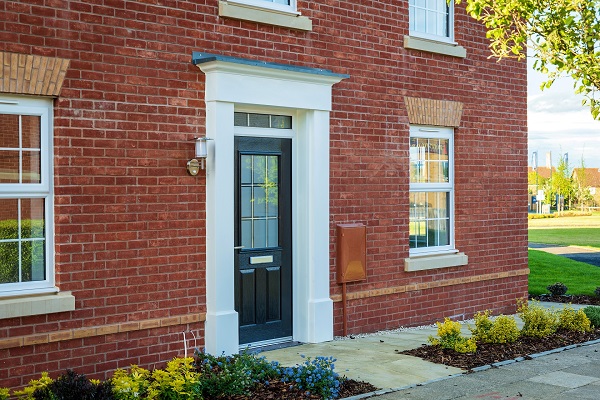 We are fortunate as an industry to have a wide range of robust, extremely well-engineered door hinges available to us. But whichever brand of hinge you choose, every one has a common requirement – the need to be securely attached to the frame.
This is one area which requires special attention because the stresses and weight that these screws need to accommodate is relatively high. Any movement or loosening of the screws over time – or even the fastener breaking – is likely to lead to common problems, such as the door sash dropping and catching on the frame as it closes, which is something every homeowner or tenant will notice.
The fasteners that you choose to attach the hinge to the outerframe will depend on the hinge design, the profile used and the type of reinforcement. It is an aspect of door assembly that Rapierstar recently investigated with testing in conjunction with SFS, the manufacturer of the Dynamic range of hinges.
The results – which you can read more about here in Glass & Glazing Products magazine  – showed that choosing a hinge screw that is tailored to the application, compared to one that might be regarded as a fairly universal fastener, can provide up to 56% more pull-out strength. This means you could achieve a much stronger attachment of the hinge and the sash to the frame simply by switching to different screws.
It is important to note here that the screws provided with the hinge which are used to attach the hinge to the sash must never be substituted. This is because they are custom-designed and central to the hinge's performance capabilities.
Don't let corrosion undermine craftsmanship and quality
A final – but extremely important – consideration is which type of metal your fasteners should be to achieve the best quality and longevity. This applies to every type of window or door and comes down to balancing cost with the proposed lifespan of the door and local environmental conditions.
If you are looking to create door sets for installation in areas in relatively rural locations with no nearby industry or major roads, you would probably consider coated carbon steel fasteners throughout the door assembly. As long as you know for certain that the location of the property where the door is to be installed is not prone to conditions where the air could be heavily polluted or salty, coated carbon steel fasteners will be fine.
However, we know it is not always easy to know what the location conditions will be for every customer order. So, for a proportionately very small increase in cost, a switch to a stainless steel fasteners as standard could make a lot of sense. Two different grades of stainless steel fasteners – martensitic and austenitic – are available from Rapierstar, both of which offer greater resistance to corrosion.
By taking a belt and braces approach and using stainless steel fasteners as default, you do not need to consider the location of every customer order and have the confidence that products will have a consistent quality over a long lifespan.
Access technical support from Rapierstar
Rapierstar is the largest specialist supplier of fasteners to the UK and Ireland's window and door industry, which means we have a wealth of expertise and experience to assist fabricators.
If you have any questions about which fasteners to use in any aspect of window or door manufacturing, simply send us a message via our Contact Us page or give us a call.
This email address is being protected from spambots. You need JavaScript enabled to view it. Technical & Marketing Manager at Rapierstar Tweet to @andyhol1